11th Firebird Developers Day
Report
(veja em português) - (index of all previous reports)
The 11th edition of the Firebird Developers Day was held in the city of Piracicaba — SP — Brazil, at Aug, 30 2014, in Espaço Beira Rio. The conference had around 400 attendees, and 11 sessions including an exclusive presentation by Dmitry Yemanov (chief of Firebird's development team), named "Firebird development, where we stand and where we go". Unfortunately, Dmitry was not able to be physically present at the conference, so his session was recorded, and in the end, an online audio channel was opened, so people could ask questions and get answers direct from him.
The other topics covered in the conference was:
Protecting your database with Firebird 3 (Carlos H. Cantu)
Introducing the FireServer Project (Fernando Pimenta)
Using Firebird in Virtual Private Servers (Marcelo Daibert)
Life with big Firebird databases, from 100GB to 17Tb (Alexey Kovyazin)
Regulars expressions in Firebird (Alexandre B. Smith)
Turning data into information (Alexandre B. Smith)
NFCe — Reality or necessity? (Daniel Simões de Almeida)
How Firebird transactions work (Alexey Kovyazin)
Introducing the ACBr project (Daniel Simões de Almeida)
Configuring Linux servers for Firebird (Marcelo Daibert)
The conference is organized by FireBase, and this time it was held in a new place, located in the downtown, next to Piracicaba's famous river, with easy access by car, taxi, bus or even by walking.
In the final session, there was a prizes draw among the attendees, with products offered by our sponsors and supporters. Along the day, attendees could buy products direct from our sponsors (IBSurgeon, FastReports, ActiveDelphi, IBObjects and Woll2Woll) with big discounts!
During the subscription process, attendees were able to donate money to the Firebird Foundation, to sponsor the development of the Firebird Project. The amount collected this year was R$ 3.567,53. The list of donors is at http://www.firebirddevelopersday.com.br/fdd/11fdd_donors.html.
The three major Piracicaba's newspapers published news about the conference, who had attendees coming from 14 different states of Brazil, some of them travelling more than 2.000km.
Also, in the previous day of the conference, there was a special free presentation of IBSurgeon products (in English) to a selected number of attendees.
Carlos H. Cantu
(03/Sept/2014)
| | |
| --- | --- |
| Conference entrance (Espaço Beira Rio) | Fernando Pimenta |
| Marcelo Daibert | IBSurgeon Stand (Alexey & Alexandre) |
| Room 1 | Alexey's talk (translation going on) |
| Room 2 | Carlos H. Cantu |
| Alexandre B. Smith | FireBase's stand |
| Daniel Simões de Almeida | Room 1 |
| Room 1 | Room 1 |
| Room 1 | HardSoft TV interviewing Daniel |
| FastReport's stand | Coffee Break |
| Coffee Break | Dmitry Yemanov's online session |
| Room 2 | Room 2 |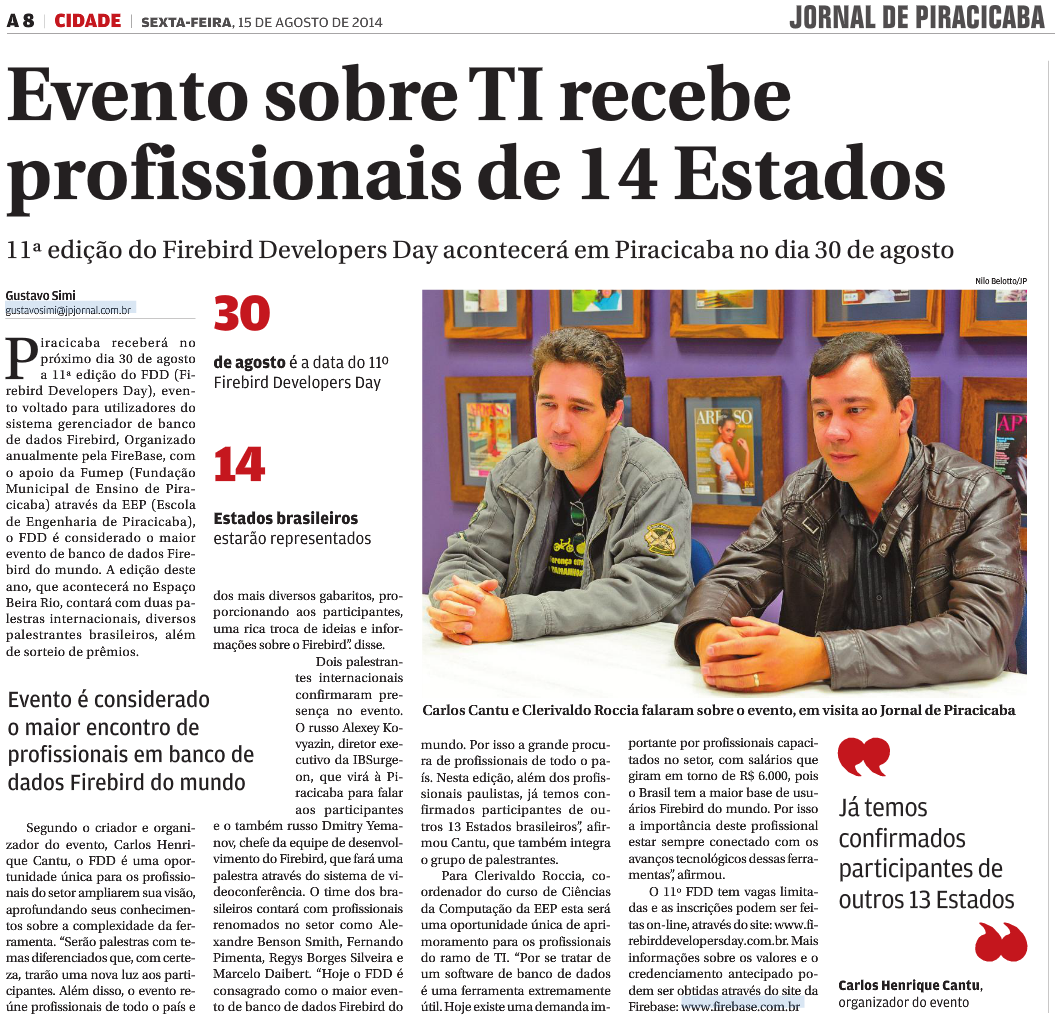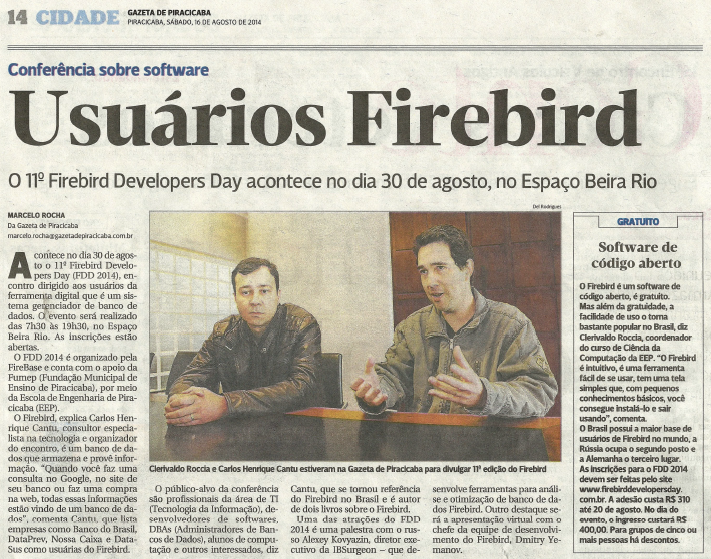 Organizer:

Sponsors: